Dog walking around Goodrington Sands, Paignton
Goodrington Sands is one of my favourite places to take my dog Daisy. She's a 2 year old yellow Labrador but comes from working stock rather than show stock and as such she's got a very acute retrieval instinct — and can run at full pelt all day long! All she wants to do is chase a tennis ball, and bring it back, again and again... I take one of those long handled things that you stick the ball into so that you can 'lob' it miles without having an aching shoulder the next day.
Goodrington is great for exercising her as it has a large open area, called Youngs Park, as well as a beach with cliff walks either side of it.
Youngs Park
Youngs Park is quite a good size and skirts around a duck pond & boating lake. There is crazy golf, picnic tables and some big wooden carvings of cows and a bear for the kids to play on. There are some lovely big trees offering plenty of shade from the summer sun, and there's also an area set aside as a small nature reserve.
If you need refreshments whilst walking hard and exercising your dog there is also 'The Spanish Cafe', a large pub (that usually provide bowls of water for thirsty dogs at their outside seating area), and also two small kiosks at either end of Goodrington Beach.
If you happen to be in the car there are two pay & display car parks – one next to the Crazy Golf and one next to the pub. There are also sometimes free parking spaces available right next to the beach.
Goodrington Beach
Dogs are allowed on the North end of Goodrington Beach all year round, but are excluded from the South end of the beach between the start of May and the end of September inclusive. The beach itself slopes steadily and the sand is fine in places but gets quite pebbly the further out you go. The tide goes out quite a way which reveals quite an expanse of beach for your dog to run its socks off. There are always at least a few other dogs taking their owners out so if your doggy likes other K9 company you'll be in luck.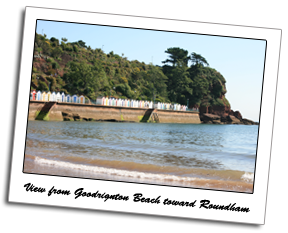 If you head to the North you can walk up the cliff path to Roundham Point and then on to Paignton harbour, the sea front and the pier. If you go in the opposite direction and head to the south you can walk along the cliffs to eventually arrive at Broadsands Beach – be warned though as it's quite steep and the path is a bit rough in places!