Dog walking in Occombe Woods, Paignton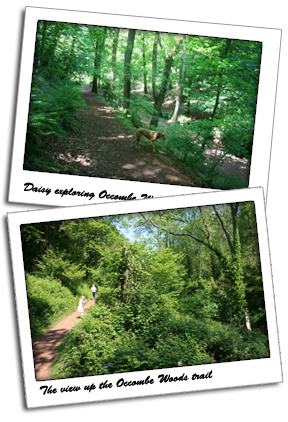 When you hear the words English Riviera you probably think of the Sea Front at Paignton or Torquay however the seaside isn't the only place worth visiting in Torbay. If you and Rex fancy a walk through the woods you'll find Occombe Woods are a real treat for both of you.
Occombe Woods are designated a local nature reserve and is an ancient woodland owned by Torbay Borough Council, and is managed by the Torbay Coast and Countryside Trust.
The woods are situated just about in between Occombe Valley Road and Sandringham Drive and so can be entered from a number of places. You'll find that the surrounding areas are mostly residential and there's limited parking however you can usually find somewhere to park. You can get a better idea of how to get there by having a look at a map of the Occombe Woods area.
The woods themselves offer several routes through and around it. The pathways are either gently sloping or a bit steeper, with a stream running through the middle of it - ideal for your dog to have a good drink and cool down. The woods are pretty ancient though and the trees provide a great canopy that keeps lots of the woods in the shade making it a superb place to go when the sun is out and the temperature is soaring (mind you it's not a problem we face very often in these parts!). I visited recently and found that more of the steep banks have had steps added and also the stream has gained another crossing. I assume this work is being carried out by the rangers that keep an eye on it.
You can easily spend at least an hour on a leisurely and more or less circular route, but you could also spend alot longer in there. If you're really lucky you might even spot some of the deer, foxes, squirrels and badgers that frequent the woods. I've chatted to people that have said they've seen the woodland creatures that live there but I've never actuallly been lucky enough to see them myself. This could be because of my noisy and very sometimes smelly dog giving them prior notice in time to scarper - or maybe it's just me that's noisy and smelly!
Links to more info on Occombe Woods, Paignton